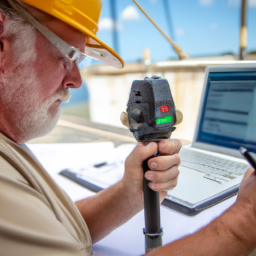 Preserving Maritime Heritage: Marine Boat Surveys in Restoring Classic Vessels
When it comes to the preservation of maritime heritage, a marine boat survey is one of the most important steps in restoring classic vessels. A marine survey is a vital examination of a boat that includes an inspection and evaluation process in order to evaluate a vessel's condition and value. It's an essential part of the restoration process which helps prevent future problems from developing and allows boat owners to identify potential hazards and structural deficiencies leading to costly repairs. Maritime heritage is something that must be protected, which is why Sun Coast Marine Surveying is offering marine surveys to help restore classic boats.
Sun Coast Marine Surveying are experts in conducting comprehensive marine surveys for all types of vessels from restorable projects through to first class yachts. As the owner and operator of the company, Captain Eric Lefebvre has over 35 years experience in providing accurate boat surveys with attention to detail. He offers tailored services for pre-purchase, pre-insurance, to destroy or repair assessments and more. With their extensive knowledge in marine surveying, they can provide detailed reports on all aspects of the vessel including construction and materials used, electrical systems, mechanical components, plumbing systems, standing and running rigging, and a range of other topics. This detailed analysis will ensure any potential problems or damages are identified prior to work commencing.
In addition to standard marine survey services, Sun Coast Marine Surveying also provide project management services for those looking to restore classic boats. They can provide assistance either remotely or onsite for all stages in the restoration process from dismantling, relocating and reconstructing the vessel through to launching the boat once complete. They have extensive experience in dealing with woodworking, metalwork, painting, engineering and more and can recommend specialist contractors if required.
With any boat restoration project time and money are two major factors. Therefore having a full survey and accurate assessment prior to commencement can reduce costs by avoiding costly surprises down the track due to hidden defects or damages not previously identified. It is therefore important to conduct a survey as early on in the project as possible. Sun Coast Marine Surveying's assessment determines its suitability for restoration or rehabilitation, thus helping clients make informed decisions regarding repairs or upgrades they may need before embarking on the project. Taking this into account a marine survey helps preserve maritime heritage while helping protect client investments.
At Sun Coast Marine Surveying they understand how important it is to maintain a balance between preserving maritime heritage and making sensible investments when it comes to renovating classic vessels. All reports provided are written in accordance with national standards as set out by state governments and regulatory bodies. They make sure each report is thorough yet easy to read and understand so that customers are fully aware of all necessary works needed. Their aim is always to ensure customer safety while delivering quality reports written with integrity and accuracy.
For those looking to restore classic vessels while preserving maritime heritage, Captain Eric Lefebvre and his team at Sun Coast Marine Surveying offer a comprehensive range of services ranging from traditional marine surveys through to project management support throughout the entire restoration process. With their commitment to service excellence and quality results, they can provide expert advice to make sure your boat renovation project is a success.
Marine Surveys are an essential part of preserving maritime heritage when restoring classic vessels and Sun Coast Marine Surveying provides professional surveying services and project management support for all your boat restoration needs. Contact Captain Eric Lefebvre today for a detailed survey, accurate assessment and reliable project management support for any boat renovation project.r
Marine Surveys