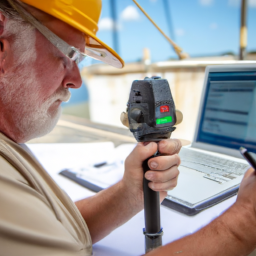 Inspecting the Fleet: Marine Boat Surveys in Large-Scale Maritime Operations
Marine surveys are an essential component of large-scale maritime operations and managing a fleet of vessels, from private sailboats to massive cargo ships. They are carried out by experienced and knowledgeable marine surveyors who assess the condition and safety of a craft to determine its fitness for sea. This process is important not only for providing legal evidence but also because it helps ensure that all vessels are maintained safely and up to code.
At Sun Coast Marine Surveying, we provide comprehensive marine surveys for boats of all sizes and uses. Qualified surveyors inspect everything from hulls and masts to decks, bilge systems, and propulsion to identify any areas that need repair or maintenance. We specialize in providing detailed reports with actionable recommendations so that boat owners can address any concerns and risks that arise during the survey process.
The primary purpose of any marine survey is to ensure that vessels remain safe and seaworthy while on the water. This includes inspecting for damage, corrosion, or deterioration of the hull and/or machinery as well as checking for any potential hazards that may be present. Additionally, the surveyor will review charts and navigational equipment to make sure they are up-to-date and functioning properly. Other areas of inspection include fuel tanks and systems, electrical wiring, fire extinguishers, and other safety gear. Each of these elements must meet industry standards for certification and compliance.
Marine surveys are also required when buying or selling a vessel, particularly when applying for insurance coverage. As part of the process, an insurance company may hire a third-party surveyor to examine the boat in order to determine its condition and value. A thorough assessment of the craft's age, type, condition, usage history, upgrades made, size, layout, motors, features etc. will help them both to understand and evaluate its actual worth.
In addition to providing marine surveys for individual clients, Sun Coast Marine Surveying also provides services to maritime businesses that require periodic inspections of their vessels. We offer regular maintenance checks to identify any potential problems early on and assist with repairs if needed. Our team also performs complete evaluations of ships prior to purchase or sale. In this way, we help commercial fisheries, tour operators, yacht clubs, towboat fleets, excursion vessels, and other maritime entities maintain efficient ship operations while ensuring the highest level of safety at sea.
At Sun Coast Marine Surveying, we are committed to providing our customers with exemplary surveys backed by thorough research and sound expertise. Whether you are looking for a one-time assessment or ongoing inspections of your fleet, our experienced team can provide the reliable services you need to keep your vessels healthy and safe at sea. Contact us today to learn more about our Marine Surveys services.r
Marine Surveys