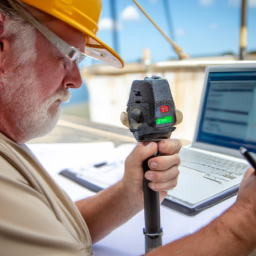 Cruising Confidently: How Marine Boat Surveys Enhance Recreational Boating
Recreational boating is an activity enjoyed by thousands of people every year. While most of these excursions go off without a hitch, there are occasions where something goes wrong. Marineboat surveys conducted by qualified professionals help boaters detect problems before they become major issues. The surveyor's job is to objectively assess the condition and seaworthiness of a craft. It's important to select a reputable firm with an experienced team who can provide an accurate assessment and give you peace of mind when enjoying your time out on the water. Sun Coast Marine Surveying has been providing boat surveys for over 20 years and their team of experienced marine surveyors have the experience and knowledge to conduct quality surveys.
Marine surveys involve analyzing both visible and non-visible components of the boat or other craft. This may include examining the vessel's hull, electrical systems, rigging and engines as well as determining its overall stability and sea-worthiness. The surveyor will also ensure that all essential safety equipment is aboard, such as life jackets and flares. Many professional marinas require a full survey prior to accepting a boat into their facility; this is especially true if the boat is being leased or purchased. Boats sold between private individuals are not usually always covered by warranties and therefore it's wise to consider having a full survey completed so any potential issues can be identified early on.
Having marine surveys conducted on a regular basis is the best way to identify any potential structural defects or mechanical faults before they become hazardous or cause costly repairs. A thorough inspection should leave no part of the craft unchecked and will likely include taking temperature readings, testing bilge pumps, inspecting fuel lines and testing the engine for proper performance. Cruising confidently involves ensuring everything is in working order before departure.
A well thought out marine survey does more than just protect you financially; it's also about keeping yourself and others safe while on the water. No matter how skilled the captain may be, accidents can happen. An independent evaluation of the craft by an experienced surveyor greatly reduces the risk of faulty equipment resulting in surprise breakdowns at inconvenient times. A marine survey can also provide valuable insight into caring for and maintaining your boat. Having monthly inspections helps document any changes over time that may potentially alert you to any areas needing attention or repairs.
The best way to maximize your recreational boating experiences is to be prepared and informed on all aspects of your chosen vessel. Before entering into any situation, make sure to consult an independent technical expert who can examine your craft and give you a detailed report of its state and condition. At Sun Coast Marine Surveying our team of certified surveyors are trained in all marine surveying procedures and use only the most up-to-date protocols and technology in our assessments. We take pride in offering exceptional service and reliable advice which helps recreational boaters cruise confidently with peace of mind knowing their craft is equipped for the open water.r
Marine Surveys